글로벌 미디어
About MPC as eco-friendly technology
23-08-23
본문
Hello, This is Kyomoon Song, in charge of the MPC project of the product development team of CTR R&D division
I have been in charge of a project manager for the light weight part in CTR for 12 years. And our product development team does a lot of work such as reducing product weight, cost competitiveness, and productivity improvement for injection part.
MPC means Metal Plastic Control arm 
MPC means Metal Plastic Control arm and as eco-friendly technology in the global automotive market become important, it is a hybrid technology that combines highly mechanical metal materials with engineering plastic composites to lighten existing metal products.
The current control arm is made of metal material and has a variety of techniques applied.
For example, Steels are stamped and forged, and Aluminum is cast and forged.
In the case of Steel, the price is low but the weight is high, and in the case of aluminum, the weight is low but the price is high.
Therefore, steel and aluminum have several advantages and disadvantages together, and the MPC is a hybrid control arm developed by improving the disadvantages and having the advantages of these two specifications.
Hybrid of metal and engineering plastics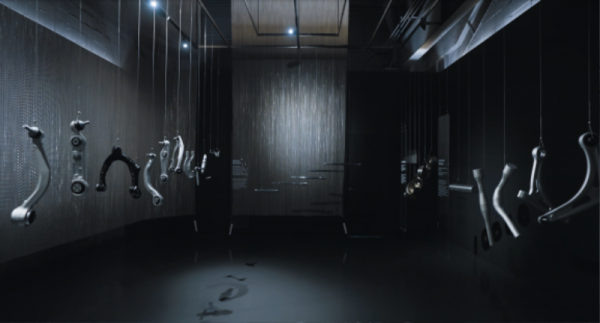 The MPC applies metal materials of thin high-tension steel plates and applies truss-structured plastic ribs through design optimization to areas where load and stress are concentrated. And the plastic is applied with engineering plastic with various compounding agents.
Optimizing the design and analysis of metals and engineering plastics to improve stiffness and fatigue life, and reduce weight through appropriate distribution by material.
In addition, MPC ball joint has many advantages such as excellent steering of the vehicle and improved durability by applying injection method.
MPC is a Control Arm made from a hybrid of metal and engineering plastics, and its key technology is to meet customer requirements and extreme performance through material selection, optimization design and analysis.
The Manufacturing Technology of MPC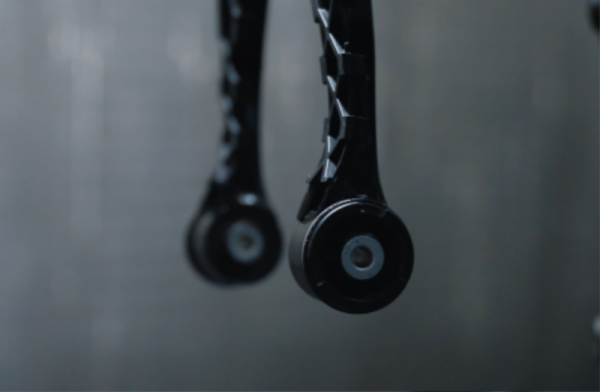 The Manufacturing Technology of MPC are.
As mentioned earlier, it is a hybrid manufacturing method that is manufactured by pressing a thin high-tension metal sheet, and then seating the metal-sheet and ball joint parts on an injection mold to inject engineering plastic.
While the metal sheet molding dimension tolerance is large, the technology to seat the metal sheet on the injection mold is key because the seating dimension of the injection mold is precise compared to the metal sheet dimension.
In addition, the plastic rib truss structure manufacturing technology of the control arm is a plastic injection technology that optimizes the injection mold structure and molding conditions to achieve the best performance and improves productivity by integrally injecting ball joint.
CTR has long studied hybrid product design, simulation, testing, and manufacturing technologies. In the future, we have the technology to continue to contribute to green technology in the automotive market and to ensure driver stability by meeting vehicle requirements and global extreme requirements.
CTR MPC products can change the paradigm of the Automotive Control Arm market and we are confident that the day will come when we will be able to lead the world leading control arm.
Thank you for providing an opportunity to introduce CTR MPC product, and hope you are interested in MPC Product.
Thank you.